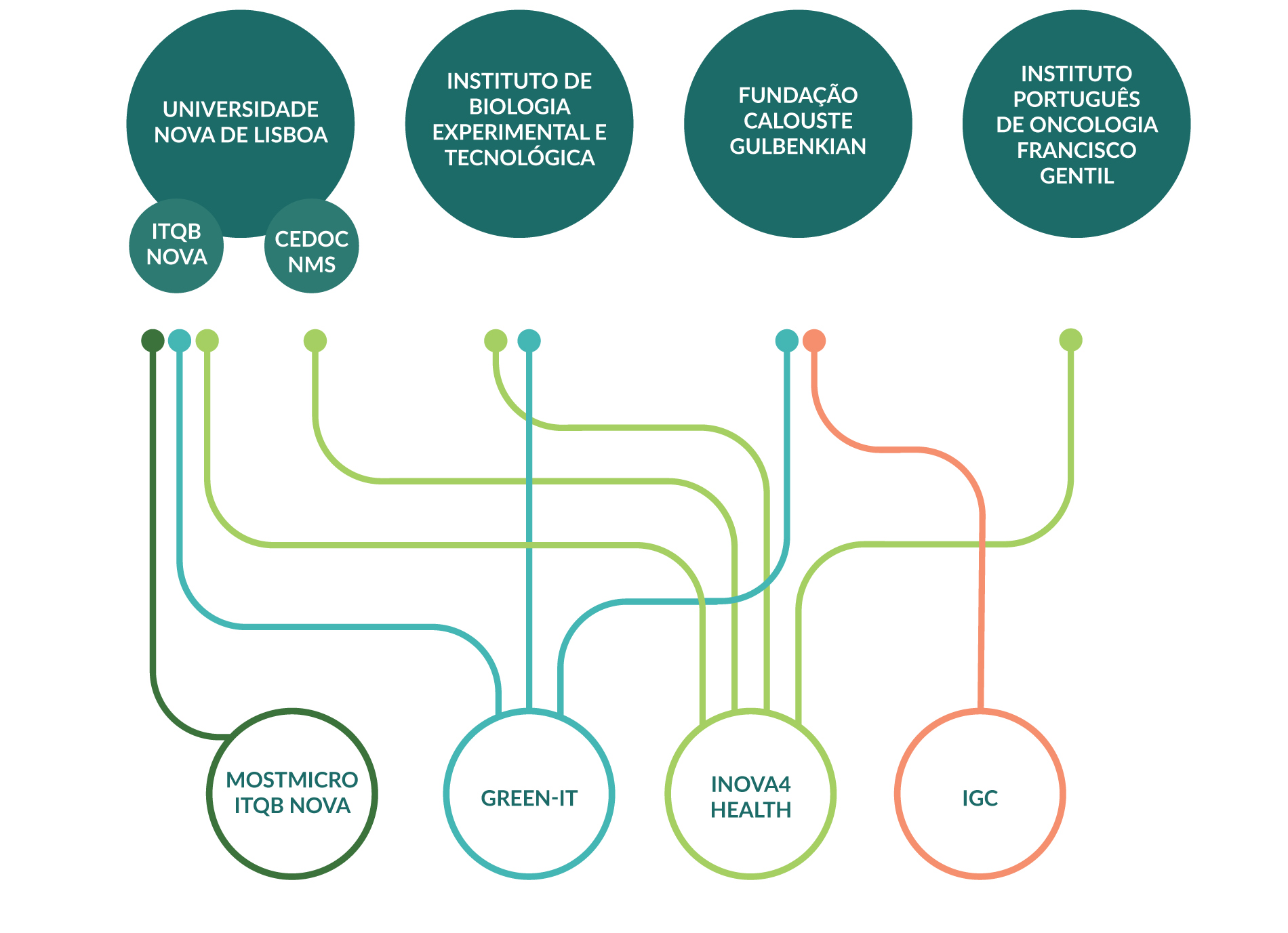 The Instituto de Tecnologia Química e Biológica António Xavier (ITQB NOVA) is a scientific research and advanced training institute of Universidade NOVA de Lisboa. Its mission is to develop scientific research and graduate teaching in Life Sciences, Chemistry, and Associated Technologies for the benefit of Health and the Environment, as well as to provide services to the community and develop activities for the promotion of science and technology.
At ITQB NOVA Research Laboratories are organized into five Research Divisions – Chemistry, Biological Chemistry, Biology, Plant Sciences, and Technology. The diversity of expertise present at ITQB NOVA contributes to the multidisciplinary atmosphere that makes this Institute unique in the country.
The Instituto de Biologia Experimental e Tecnológica (iBET) is committed to creating value for their partners, leveraging scientific and technological knowledge in Biology and Chemistry.
This private non-profit institution works in a broad range of fields that encompass multidisciplinary approaches ranging from basic, technological to clinical and translational research, from the development of complex biopharmaceuticals and novel therapies to areas in food and health, including nutraceuticals development and agro-forestry.
Created in 1956, Fundação Calouste Gulbenkian's main purpose is to improve the quality of life through art, charity, science, and education.
In conjunction with cultural activities, Fundação fulfils its mission through innovative programmes that develop pilot projects and support, by providing scholarships and grants for other institutions and social organisations. In the science area, FCG hosts the Instituto Gulbenkian de Ciência (IGC) focused on solving tomorrow's challenges in biomedical and biological research.
The Chronic Diseases Research Centre (CEDOC) is a research centre of NOVA Medical School, an organic unit of Universidade NOVA de Lisboa, which aims at excellence in medical research on chronic diseases.
CEDOC's research groups are divided into two branches. Biomedical Research, whose goal is to produce knowledge and understand the causes of disease of various chronic pathologies, and Clinical Research, which targets the promotion of new therapeutic strategies, with considerable impact in public health.
Additionally, this Centre is also committed to rare diseases' research, and is part of national and international efforts in this area.
The Instituto Português de Oncologia de Lisboa Francisco Gentil (IPOLFG) is a public hospital that provides highly specialized and differentiated healthcare, and is considered the main oncology hospital in the country. This hundred years old healthcare unit is dedicated to cancer treatment, study, and research.
IPOLFG's mission is to provide excellent health care in all intervention fields, to promote and contribute for pre and post-graduate education and stimulate research, according to scientific, human and motivation principles for citizens and professionals. Its research centre has five research units, with main focus on familial predisposition and cancer, rare neoplasms, combined therapeutics, customized therapeutics and preventable cancer.