LS4FUTURE 's research addresses four key thematic lines (TL), which function in a knowledge-based symbiotic relationship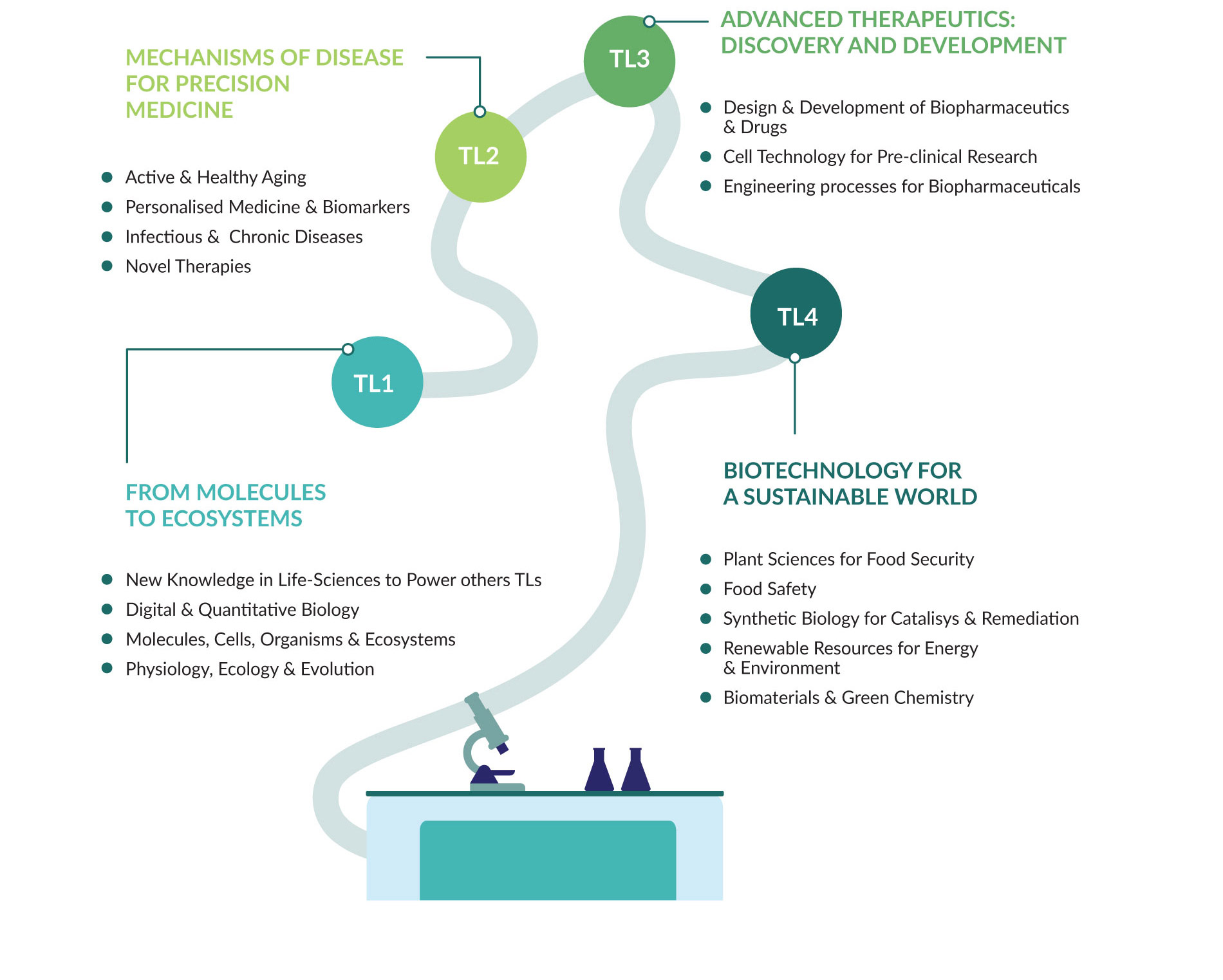 FROM MOLECULES TO ECOSYSTEMS
Coordinator Mónica Bettencourt Dias (IGC)
Co-coordinator Mariana Pinho (ITQB NOVA)
TL1 aims to pave the way to a healthier planet and society by producing new concepts and ground-breaking findings in life sciences at different scales of space and time, from molecules to ecosystems.
We anticipate solutions to future crises through long-term discovery-driven research, studying the molecular building blocks of living systems in a multidisciplinary approach to determine their structure, mechanisms of action, how they are regulated, and how they interact to achieve their physiological role.
By taking advantage of state-of-the-art facilities, we strive to understand the molecular mechanisms of biological processes, and how they may be manipulated through different stimuli, to explore their potential for therapeutic actions or biotechnological applications.
MECHANISMS OF DISEASE FOR PRECISION MEDICINE
Coordinator António Jacinto (CEDOC)
Clinical Co-coordinator José Cabeçadas (IPOLFG)
Scientific Co-coordinator Lígia Saraiva (ITQB NOVA)
TL2 aims to understand pathophysiological mechanisms and develop a research and innovation strategy focused on technological solutions for health challenges that have a major impact on quality of life.
Through objective clinical and translational research, we keep up with a changing perception of disease, as increasingly personal and age-specific. We aim to bridge the gap between fundamental research and experimental medicine, as well as between experimental medicine and health applications.
Our main focus is in Cancer, Neurological and Vision disorders, Metabolic and Inflammatory disfunctions, and emerging Microbial Infections. In TL2, we will develop a Translation Enabler Programme (TEP) – a combination of tools designed to support the translation of new discoveries into heath solutions and bridge the divide from discovery to delivery.
ADVANCED THERAPEUTICS: DISCOVERY AND DEVELOPMENT
Coordinator Paula Marques Alves (iBET)
Co-coordinator Pedro Matias (ITQB NOVA)
TL3 aims to create opportunities for industrial innovation and economic development and generate knowledge on molecular biosciences and technologies,
It works on three major research areas: Biopharmaceuticals & Drugs: From Design to Development; Advancing Cell Technology for pre-clinical research;
and Engineering Processes for Biopharmaceuticals, encompassing expertise from molecular, cell, structural and computational biology to mathematical modelling, engineering and clinical manufacturing.
Some researchers work in the scope of established R&D contracts with relevant pharmaceutical companies, while others are directed to more fundamental research.
BIOTECHNOLOGY FOR A SUSTAINABLE WORLD
Coordinator M. Margarida Oliveira (ITQB NOVA)
Co-coordinator M. Rosário Bronze (iBET)
TL4 aims to pave the way to a more innovative, resource efficient and competitive society that reconciles food security and safety with the sustainable use of renewable resources for industrial purposes.
We intend to strengthen the national research capacity in the areas of Plant Biology and Biotechnology, Food Safety and Security, Sustainable Chemistry and
Industrial Biotechnology, while also providing a platform to train human resources for these areas.
Ultimately, we aim to support knowledge translation to the economic system to ensure food security, safety, authenticity, and nutritional quality in a climate change scenario, reducing dependence on non-renewable resources and improving soil and water quality.
This interdisciplinarity, combined with our expertise, and state-of-the-art analytical and bioinformatics technology, provides a platform for addressing critical societal challenges and contributing with innovative solutions.